Hollister House Garden needs volunteers like you!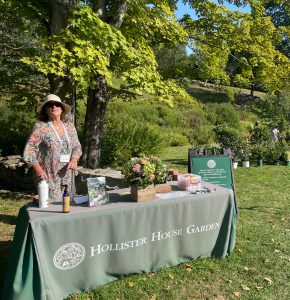 As a small not-for-profit organization, Hollister House relies upon the time, energy and expertise of our team of dedicated volunteers.  Volunteers play a key role in our mission to engage our community by ensuring that all garden visitors and everyone attending our events is made to feel welcome and informed.
Please read about the specific opportunities available and email us if you would like to learn more about  becoming a part of our team.
Garden Docents
Garden docents serve as the primary point of contact with our visitors during our open hours. Docents remain in the garden to greet our guests, answer questions and ensure a safe and enjoyable visit for everyone.  An interest in gardening and general knowledge of horticulture is highly beneficial but not required. All volunteers receive annual training on information specific to Hollister House Garden.
Barn Talk Volunteers
During the spring and fall, Hollister House offers a series of horticultural lectures on Saturday mornings. Volunteers manage guest check in, collect payment as needed and answer visitor questions. No prior experience required; however a comfort level with using our iPad is helpful.
Special Event Volunteers
Throughout the season Hollister House Garden hosts special events: Member evenings with George Schoellkopf, Family Day in June, First Fridays, and Garden Study Weekend including an annual plant sale in early September. Special event volunteers will help manage check in and collect payment among other duties. They may also assist with set up and break down for events, which requires some light physical activity.
Special Project Volunteers
Hollister House welcomes the opportunity to put volunteers unique talents and professional experiences to use in special projects. Please be sure to make note of any special skills you would like to contribute when you complete the volunteer form below. If there is an upcoming project that would be a good fit for a volunteer's background and experience, our team will be in touch.
If you were not able to attend an Information Session and would like to volunteer at Hollister House Garden please email our Visitor Experience Manager.