The large barn at Hollister House is located at the north end of the property on what was once a stagecoach route between New Haven and Albany.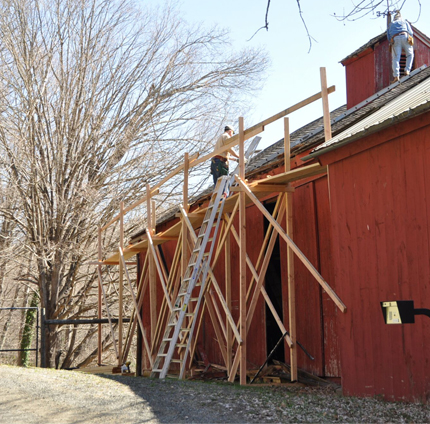 The three bay English bank barn dates back to around 1770, probably built at the same time as the house. It is a majestic structure constructed of massive oak posts and beams. The main section is 100 by 30 feet with a smaller early nineteenth century addition on the south end. In 2010 the barn, as part of the Hollister homestead was listed on the national Register of Historic Places.
Four years ago the barn was in such a dilapidated state that it was virtually unusable but during the winter of 2015/16 an extensive and painstaking renovation was carried out. Although the barn's original interior walls and roof have been lovingly conserved, an entirely new structural layer has been grafted onto the exterior so that the barn is now properly insulated with a thoroughly modern heating and cooling system. In the smaller section of the barn we added restrooms and a catering station with burners, sink, dishwasher and refrigerator. There is also an extensive horticultural library for the exclusive use of HHG members.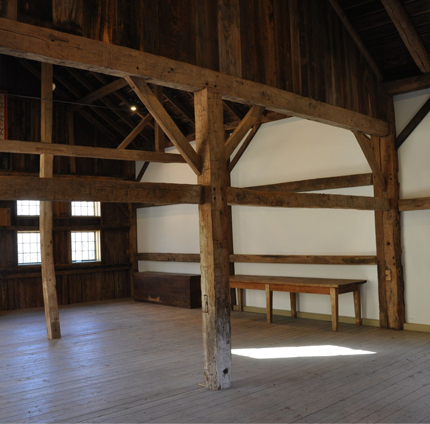 In 2017 a state-of-the-art audiovisual system was installed to complete the transformation. Now our historic barn is not only preserved for posterity but has also been transformed into asuitable venue for educational events such as lectures, demonstration courses and plant sales. This season the barn will be the setting for Barn Talks, a new series of educational workshops and lectures designed to engage, educate and bring together amateur and professional gardeners as well as a full schedule of classes and our annual Sale of Rare and Unusual Plants.